Some would call this tone peach but that is so 2000's, don't you think? Himalayan pink sounds better and it is more on trend. You deserve to shine bright like the Himalayan pink salt lamp that everyone seems to have, including yours truly (and yes we've given it a lick, don't act like you haven't thought about it.) Either way, it's a feminine and soft hue that is perfect for your next August-September event.
Side note; we will be closed this coming Monday, August 7.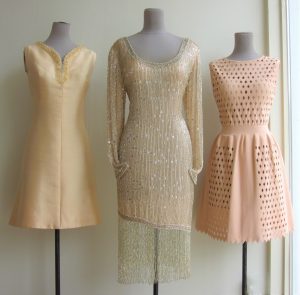 L~1960's hand beaded silk dress, size 8-10.
C~Late 1970's hand beaded flapper fringe dress, size 12.
R~Fendi diamond cut out dress, size 6 sold.