On display
Welcome to September. This window is kicking off our most favourite season with it's golden hues mixed with navy. Sizes are ranging in this one from 0-16, which is a good representation of our stock right now. What will you be injecting into your wardrobe this season? Perhaps this feature will inspire you. We will be closed this coming Monday for Labour Day. Happy long weekend!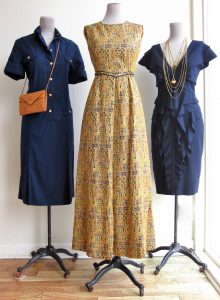 L~Celine cotton safari dress, size 14-16. Lancel ostrich crossbody.
C~Bergdorf's 1960's brocade gown, size 0-2.
R~Fendi wool ruffle dress, size 6-8 Sold. 1960's chain & crystal necklace.