On display
Since everything is "Pumpkin Spice" lately I thought I'd jump on the fall harvest hay/band wagon and work it into the weekly display. Ta-da! Spicy enough? We've been injecting so many new items onto the floor this week and should have it all out in a couple of days. You shouldn't wait for the weather to get chilly to shop, c'mon by soon for the full selection.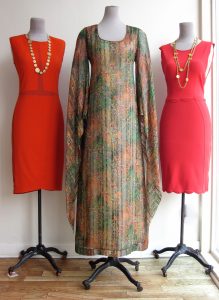 L~Narciso Rodriguez wiggle dress, size 6-8 sold. 1970's coin necklace.
C~1970's silk print caftan with drama sleeves, size M.
R~Fendi stretch wiggle dress with scalloped trim, size 6-8. Chanel chain & coin necklace.