Fall is officially upon us. And with the change of seasons comes a change of stock here at The Cat's Meow. Woolens, cashmeres, furs, coats and fab autumn/winter dresses that we've squirreled away have now made their way onto the floor. Some really cool pieces need you to look at them and appreciate them, don't let them down.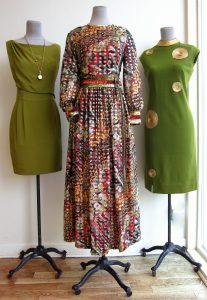 L~Byblos 1980's avocado green dress, size 6. 1960's Swiss watch pendant necklace sold.
C~1970's hand sequined chiffon print gown, size 0-2.
R~Avocado green knit dress with crystals and gold disks, size 10.