On display
Chocolate hues and vining grapes set the tone for this label heavy autumn display. Go from day to cocktail hour in that one-pocketed Prada on the right with a toss of the cardigan/blazer. It's a super versatile workhorse of a dress! That centre Pucci- not so much. It's more of a show pony, meant to dazzle your on-lookers with it's fab print and poet sleeves. Separates are not to be overlooked over on the left. Dior ruffles and ribbons abound on that romantic crochet cardigan. It's paired with a warm wool Celine pleated skirt which would look sweet with some tall leather boots. And there is loads more in store kittens!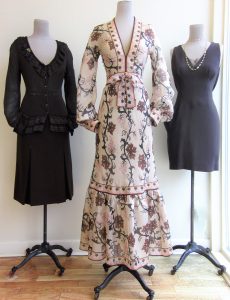 L~Dior crochet cardigan, size 10. 1940's lapel pin. Celine 1970's wool skirt, size 8-10.
C~Pucci 1970's organza gown with poet sleeves, size 0.
R~Prada chocolate dress with pocket, size 6. 1970's clear crystal necklace.