On display
Isn't this magenta window magnetic? We've gotten in quite a few INCREDIBLE pieces over the last two weeks, 2 of which have made this saturated window possible. A nice selection of designer coats as well as some luxe dresses that are awaiting your gaze & tender touch. Won't you oblige them?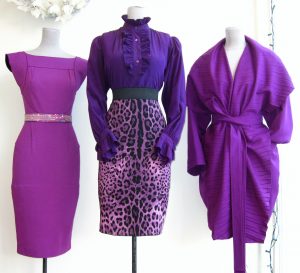 L~Roland Mouret dress, size 4-6. Dolce & Gabbana rhinestone belt, size M.
C~YSL 1970's silk blouse, size M. Dolce & Gabbana leopard print skirt, size 8.
R~Gianni Versace 1990's wool coat, one size fits most.sold