On display
This week it's all about the trimmings. These frocks take it up a notch with their crystals/beads/sequins to enhance your evening experience. At first glance the dress on the left looks like it's a simple little number with a great necklace on top….But alas it's a trompe l'oeil!  Should you click and zoom in (you should) you'll see that's this is part of the dress. It's very chic.  Also check out that YSL Betty purse on the right, it's brand new for you!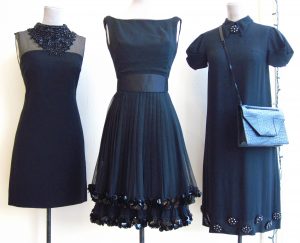 L~1960's beaded bib dress, size 6-8.
C~1950's chiffon pleated dress with belt, size 2.
R~Miu Miu dress, size 4-6 sold. YSL "Betty" purse.