On display
This off white display goes out to all you future brides-to-be, you know who you are because he/she put a ring on it! Show them how fab you can really be by sashaying down the aisle in one of our vintage dresses. This display also goes out to all you fine felines that enjoy having a fresh frock to frolic in. You know who you are because you don't need a reason to strike a pose and life is your catwalk. Meow. Side note; we just did yet ANOTHER round of markdowns in the sale room. Some crazy deals like a 1970's Pucci gown for $170! C'mon in, you'll be astounded by what you find.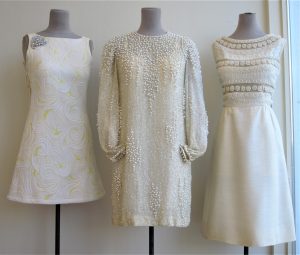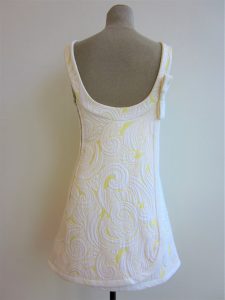 L~1960's Swiss cotton brocade dress, size 2-4 sold. 1950's large crystal brooch.
C~1970's hand beaded pearl, crystal, bead and sequin dress, size 6-8.
R~1960's hand beaded bodice dress with pockets, size 0-2.