On display
These dresses are big on sequins and beads, not on labels. An all vintage trio this week gives maximum impact from bygone eras raging from the 1920's through to the 60's. They are oldies but goodies that never go out of style. So if you need that perfect party dress that will be a go-to for years to come, then we've got you covered. Literally.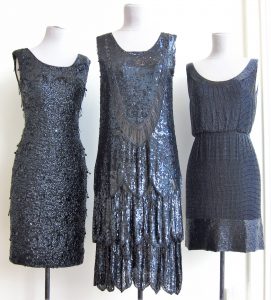 L~1950's hand sequined dress, size 8-10.
C~Art Deco (1920's) flapper dress, size 8-10.
R~1960's bugle beaded dress, size 8.