On display
Here's a wee bit 'o' green for ya in honor 'o' St. Paddy's day tomorra. FYI, these are probably my top three favorite dresses in the whole shop right now.  Check out the flora & fauna on that centre stretch silk Cavalli. Why don't you swing by and see them in person this weekend? Who knows, you might get lucky and find the purrrrfect dress.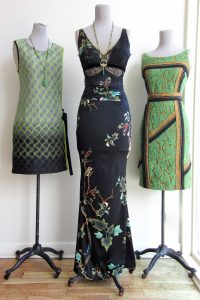 L~Missoni 2pc slip dress, size 6. Deco necklace.
C~Cavalli stretch silk gown with lace cutouts, size 2-6 sold. Deco necklace.
R~Prada brocade dress with ribbon detail, size 6.