On display
Pretty pink Chanel looks are coming your way this week. We've got some great new arrivals for all you size 4-6s out there. Labels like Chanel (pictured centre), Valli, Vuitton, Prada and Oscar along with 2 Hermès cross body bags that you can preview here and here. You can also see a close-up of that Chanel brooch on the right mannequin here. Happy spring kittens!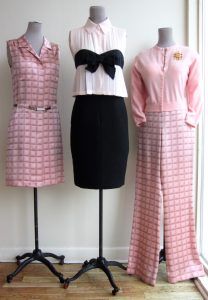 L~Chanel silk quilt print button front dress with belt, comes with pants on right. Size 8.
C~Chanel chiffon and bouclé dress, size 6.
R~ Chanel silk print pants, size 8. 1950's Scottish cashmere cardigan, size S-M. Chanel brooch, 1996.