On display
All hues of amethyst prevail this week. How boho chic is that Cavalli on the right?!? It makes me swoon… The print must be a copy of an old Deco piano shawl. These were hand embroidered on silk and usually had long fringes along the edge. We've had many of these through the shop over the years, including this one that is actually still available in the sale room right now. Oh Roberto, you do have style.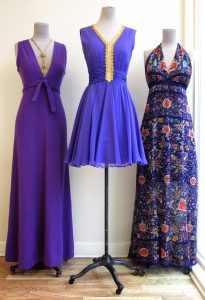 L~1970's plunging knit dress, size 6. 1960's brass knot necklace.
C~1960's chiffon mini dress, size 4. Now on sale!
R~Roberto Cavalli silk chiffon print halter gown, size 4-6.