On display
These three palest of pink dresses are all making their debut since arriving just this week. Sooo many new items have hit the floor, probably at least 30 of them. So what are you doing this long weekend? We're here Saturday 10-5 and Sunday 12-5. Closed on Monday though. Hope to see you soon.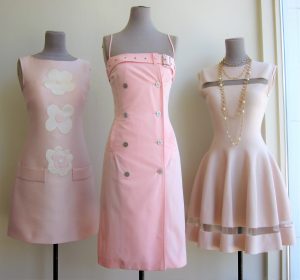 L~Prada silk satin flower appliqué dress, size 8.
C~ Burberry trench dress, size 0-2.
R~Valli dress, size M. Various crystal and pearl necklaces.