On display
Powder blue, seafoam and aqua for all you aspiring mermaids out there. I just love this combination of colours, it's so fresh and light. The Dior 2 pc on the left is exquisitely tailored, check out how the diagonal lines meet up perfectly between the skirt and the top. No logos here, just old money sophistication.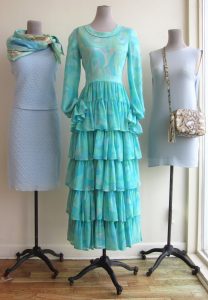 L~Dior 2pc set, size 8. Hermes silk scarf.
C~Bessi 1970's tiered gown, size 6.
R~ Phillip Lim slip dress with tie back, size 2-4. Gucci Soho Disco crossbody in python.