On display
I've been trying to whip up this confection of a window for weeks now. Between dry-cleaning and waiting for the perfect 3rd 'look' it's finally here for you. What 'cha think? Some pretty special pieces are featured here, see deets below or swing by to peep them in person. Btw, I almost got jumped by a NYC designer and her gaggle of sycophants for that Oscar on the right when I came across it on my hunt….All for you kittens!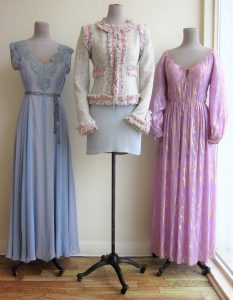 L~1940's periwinkle gown with pink slip, size 6. Art Nouveau belt.
C~Phillip Lim dress, size 2-4. Chanel 2004 Lesage tweed jacket, size 36.
R~Oscar de la Renta 1970's lilac & gold chiffon gown, size 2-4.