On display
Blush silks highlighted with florals and gold threading are here to help you take their breath away. Quiz time; which of these gowns is vintage and the other Dolce & Gabbana? The answer is below the pic and it may surprise you. If you get a long weekend this weekend, enjoy it! We will be here and open for you everyday, including Monday from 10-6.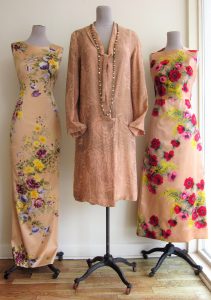 L~Dolce & Gabbana silk stretch gown with back appliqué flowers, size 6.
C~Deco silk and gold thread hostess jacket, size M. 1940's glass pearl and crystal sautoir.
R~1960's devoré satin gown, size 6.