On display
When there's no more room for the grey area then only black and white will do. Be straightforward and cut to the chase in one of these seriously chic looks. For those of you who love a good deconstruction then this week's window is for you. If you're more into simpler lines then the centre ensemble may be more your cup of tea. And I think we all can agree that the mini Lady Dior cross body is divine.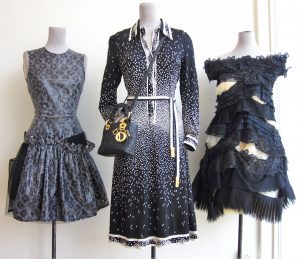 L~Simone Rocha dress with a tulle pocket, size 0-2.
C~1970's Leonard silk jersey polka dot dress, size 8. Mini Lady Dior cross body.
R~Marc Jacobs runway dress, size 0-2