On display
Some killer navy dresses have made their way in dating as far back as the early 50's. The centre beaut is sans label but is 100% couture made, of Italian provenance. She came in with four other couture pieces that are as equally worth dying for. Why not swing by soon for first peeps and pick?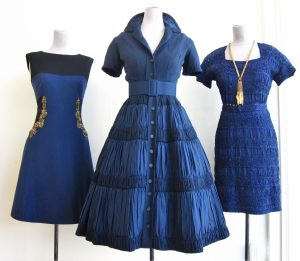 L~Alberta Ferretti hand beaded wool felt dress, size 6.
C~1950's Italian Couture ruched dress, size 0-2.
R~1950's Holt Renfrew ribbon dress, size 10. Contemporary Celine necklace.