On display
This metallic mashup is brought to you by the 1960's and 70's with a little bit of 90's sprinkled on top. Autumn is now officially here so why not sparkle it up a little?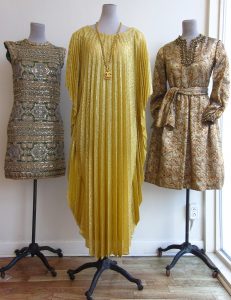 L~1960's Larry Aldrich hand beaded brocade dress with pockets, size 8.
C~1970's gold pleated caftan, one size fits most. Chanel 1990's necklace.
R~1960's beaded brocade dress with belt and pockets, size 6-8.