On display
Why not inject a little designer knit into your wardrobe this season? Snuggly and comfy these sweet dresses are great staples, especially the two flanking black Chanels. C'mon by, you know nobody else can frock you as well as we can!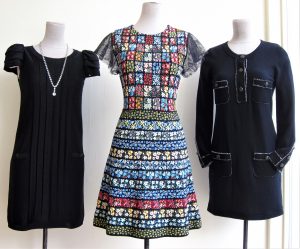 L~ Chanel sparkle knit pleated dress, size 2-6. Deco crystal necklace.
C~Valentino knit dress with Chantilly lace sleeves, size M.
R~Chanel cashmere dress, size 6-8.