On display
Since all that cold white stuff will soon be here, check out these options to help you chicly shield yourself from the elements. We also have many puffer coats and other luxe designer winter jackets out now. Open daily.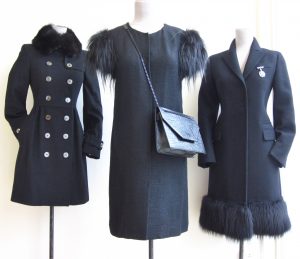 L~Burberry cashmere & wool coat with fox collar, size 4ish.
C~Fendi woven raw silk dress with fox sleeves, size S-M. YSL Betty purse.
R~Prada wool coat with fox hem, size 6. 1960's crystal medallion brooch.