On display
Allow our fiery orange window to thaw you out from this deep freeze we are currently experiencing. These hot little numbers have some sizzling labels too, see below for more details. Shop's nice and toasty so c'mon by.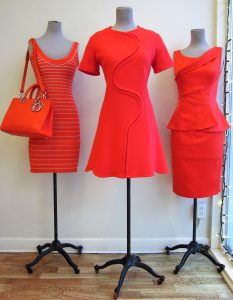 L~ Herve Leger bandage dress, size M. Dior "Diorissimo" purse.
C~ Dior wool cap sleeve dress, size 12.
R~ Oscar de la Renta silk peplum dress, size 4 sold.