On display
We're black and blue for you this week and dripping in labels again. Some AMAZING stock has hit the floor over the past week including the Versace stretch dress on the right. Party season will soon be upon us so we're here daily for all of your event needs/wants.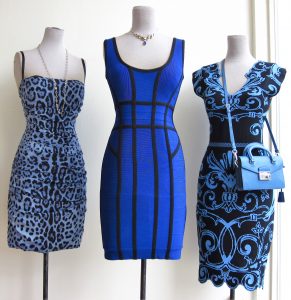 L~Dolce & Gabbana leopard print dress, size 42. 1970's crystal necklace.
C~Hervé Léger bandage dress, size S. 1940's necklace.
R~Versace stretch dress, size M Sold. Prada mini Sound crossbody in Saffiano leather sold.