On display
Since winter refuses to go away we would like to take this opportunity and showcase some of the coats that have come in recently. The Jean-Louis Scherrer Couture cape on the right hails from 1981 and is as classic as all hell, but la pièce de résistance is our centre coat. It's from YSL's 1976 Russian Collection is absolutely, certifiably,  worth dying for. She's museum quality, in pristine condition, and to top it all off she has pom poms!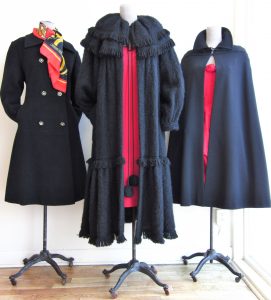 L~1960's cashmere double breasted coat, size 8-10 sold. Hermès tiger scarf.
C~YSL 1976 Russian Collection mohair fringe coat, one size fits most. Michael Kors dress, size 4 sold.
R~Jean-Louis Scherrer wool cape, one size fits most. Naeem Khan strapless taffeta dress, size 6.