On display
This is supposed to be a green display for St. Patrick's day, right? Well I felt like being a tricky little leprechaun by switching things up this year, just to keep you on your toes. Who needs that Irish pot 'o' gold anyways when you can be all flashy in these Italian labels that you know and love?!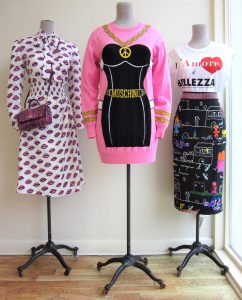 L~Prada kissy lips dress, size 6-8 sold. Dolce & Gabbana mini Miss Sicily cross body.
C~Moschino bustier intarsia knit sweater/mini dress, size S-M.
R~Dolce & Gabbana scribble print skirt, size 6 sold. Dolce & Gabbana crystal belt, size M. Dolce & Gabbana "Love and Beauty" t-shirt, size S-M.