On display
Super excited to showcase these three black tie looks for you!  The centre gown has lost it's label over the years but that doesn't stop her bead encrusted brilliance from shinning through. We've never had a dress this densely beaded before. When worn, it looks as though one has been dipped in black paint. It's truly too fab for words.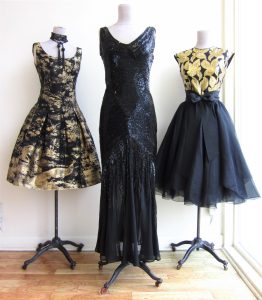 L~Oscar de la Renta warped silk brocade dress with pockets, size 6. (Crinoline not included.) Deco lariat necklace/belt.
C~ 1990's does 1930's black bugle bead and silk chiffon gown, size 6-8.
R~ Suzy Perette 1950's organza and lurex dress, size 6.