Since mother nature wants to keep it chill(y) we thought we'd take this opportunity to showcase the centre Dior coat that just came in.  She's only a couple of seasons old and is really BEAUTIFULLY made. Double breasted with the prettiest lucite logo buttons that make it pop! So spring chic and Easter ready.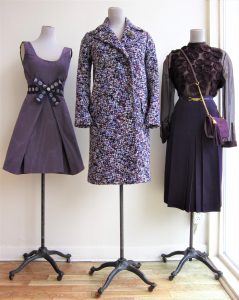 L~Carolina Herrera silk moiré dress with polka dot belt, size -2.
C~Dior double breasted tweed coat, size 6. 1960's Austrian crystal brooch.
R~Celine 1970's skirt, size 2 sold. Valentino blouse, size S-M sold. Nina Ricci purse.