On display
How about some creamy crochet confections that'll make you feel and look ultra feminine? No labels here ladies, just classic vintage pieces that will serve you well for decades to come.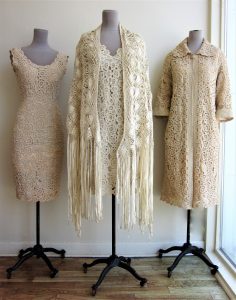 L~1950's crochet raffia wiggle dress, size 4-6 sold. Goes with jacket on right.
C~1960's crochet raffia dress, size 8. 1930's crochet shawl sold.
R~1950's crochet raffia jacket, size S-M. Goes with dress on left.