On display
Feast your eyes and lap up our strawberries & cream window (with a side of blueberries). We're back to our vintage roots this week with looks from the 1940's and 50's. How divine is that centre bow print frock?!? Sooo swoon worthy, isn't she?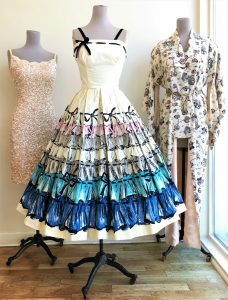 L~1950's hand sequin knit dress, size S sold.
C~1950's cotton bow print dress, size 0-2 sold(worn with 2 crinolines for max. volume, sold separately).
R~1940's silk cherry blossom print kimono, one size. YSL 1970's belt.