Dashes of red and gold accent black in our featured looks for the coming week. Mother nature has pulled a 180° all of a sudden and thrown us into the fall season. We here at The Cat's Meow couldn't be more ready. We are also now taking in fall/winter consignment so please contact us if you have items to bring by.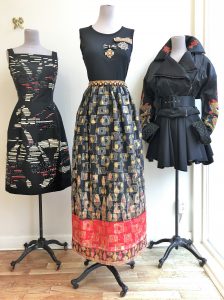 L~Oscar silk taffeta dress with enamel beads, size 8.
C~ 1970's studded maxi skirt, size 6. Dolce & Gabbana crystal medallion tank, size S.
R~Dolce & Gabbana F/W 1992 runway dragon beaded motorcycle jacket, size S. Viktor & Rolf black wool flirty skirty, size 6 sold.