On display
We want to say thank-you to you this Thanksgiving weekend by having a storewide tax-free sale!  So grab your chicks (is a baby turkey called a chick?… nope, just checked, it's a 'poult') and make the pilgrimage on over to gobble up some savings this Saturday and Sunday. Please note that we will be closed on Monday.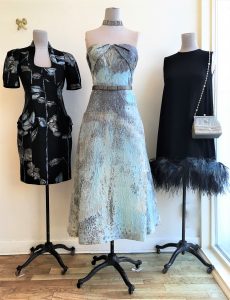 L~Marc Jacobs silk print dress, size 4-6.
C~Carolina Herrera strapless dress, size 10. 1850's steel cut choker.
R~Prada ostrich hem dress, size 4-6 sold. Gianni Versace crystal purse.