On display
Some sweet casual looks have made their way into the shop this week and this display is just the tip of the iceberg. Many more great separates and accessories are here to help give your fall wardrobe a 'lil injection. Fresh in this week; Burberry coats, poncho & bags, Chanel jackets, belts & dresses, Ferragamo belts, a Chloe bag and more!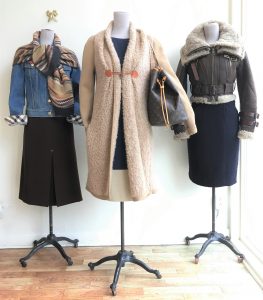 L~Celine chocolate wool skirt, size 6-8sold. Burberry denim jacket, size S. Missoni scarf.
C~Balenciaga knit dress, size M. Philosophy by Ferretti alpaca sweater coat, size M. LV neverfull sold.
R~Chanel navy tweed skirt, size 4-6. Burberry Prorsum runway shearling aviator, size S.