How about a pop of red to kick off your holiday season with? Well we've got you covered, literally, with these three fine looks by some labels that you know and love. Let us help you look festive from head to toe this year! Open seven days a week.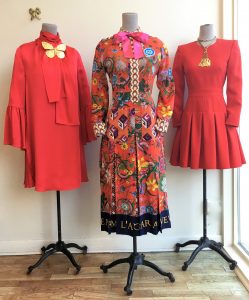 L~Fendi dress, size 6-14. 1990's massive butterfly broach sold.
C~Gucci 2017 "L'Aveugle par Amour" dress, size 8.
R~McQueen dress, size 2-4 sold. Celine necklace (extends to longer length too).