On display
Cruise season is officially upon us but to be honest we're just using it as an excuse to showcase some of our newest arrivals. These delicious designer looks may long for warmer locales right now but they are so good you may want to snap them up sooner than later. Your future summer self will be so thankful to the winter you that you'll want to make out with yourself.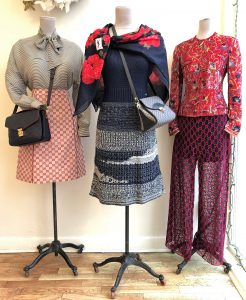 L~Celine 1970's kitten bow silk blouse, size M sold. Gucci logo skirt, size 8. LV Metis purse.
C~Chanel crochet knit dress, size M. YSL rose print wrap. 1980's Gucci purse.
R~Gucci pants, size S-M (elastic waistband)sold. Armani black label beaded jacket, size S.