On display
Mix 1 part leopard print with 2 parts chocolate, then sprinkle on some high quality labels and voilà! You now have this week's current window display, as easy as pie.  We are now accepting spring & summer dresses and accessories. If you have some items that you haven't worn in awhile and are wanting to purge then please send pics to info@thecatsmeow.com or call us 647-435-5875.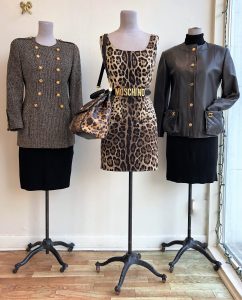 L~Chanel 1994 tweed jacket with Gripoix buttons, size 6-8.
C~Dolce & Gabbana dress, size 2-4. Dolce & Gabbana large Miss Sicily purse. Moschino 1990's belt, size M-L.
R~Chanel 1990's lambskin leather runway jacket with quilted turn lock pockets, size S.