On display
The greys have landed! They have come from other closets far far away and are superior in their design. They telepathically communicate amongst themselves and are here with an agenda to inject you(r winter wardrobe). Resistance is futile!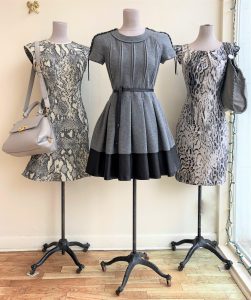 L~Yigal Azrouel snakeskin print dress, size 6. Ferragamo Sofia purse.
C~Louis Vuitton wool and leather dress, size 6-8.
R~Lisa Baday silk leopard print dress, size 4-6. Stella McCartney Falabella bag.