On display
Powder blues are dominating this label heavy window display for the coming week. Hey, are you zooming in on those bags? If so, then you need to check out our Instagram (@thecatsmeowmeow) account and follow us there! You would have already known about these bags then.  Super fresh item postings are happening often and we don't want you to miss out.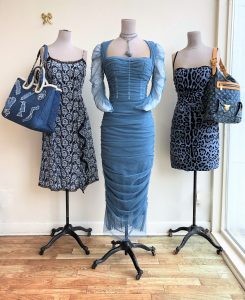 L~Prada silk slip dress, size 2. Chanel denim hieroglyphics tote.
C~ Dolce & Gabbana tulle dress with silk slip, size 6. 1960's crystal necklace/belt.
R~Dolce & Gabbana leopard dress, size 6. LV denim purse.