On display
These dark days require some bright dresses to help fuel your future party & event dreams. Please see below. Anything you see here on our blog or Instagram can be purchased (unless otherwise sold) and shipped off to you. Have questions? Just ask;) To all of our consignors keeping yourselves busy with a spring closet clear out; please feel free to email us pics/questions to info@thecatsmeow.com. Fresh weekly windows will continue so stay calm kittens and we'll see you on the other side.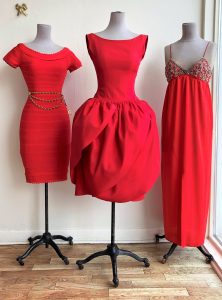 L~Hervé Leger bandage dress, size M. 1990's Chanel chain & leather belt, size S-M.
C~1950's taffeta tulip skirt dress, size 0-2.
R~1970's silk slip dress with hand beaded bodice, size S.