Out and about
The picture perfect Ami Powell just sent us the following email;
Just thought I'd email you a picture of me from my prom, wearing the gorgeous 1950s dress I purchased from The Cat's Meow.  I received countless compliments about my dress and everyone wanted to know what store it was from.  It was a pleasure to choose my prom dress from your store, and I will definitely be shopping there again in the future!
Thanks for everything, and I can't wait to wear my dress again as soon as possible!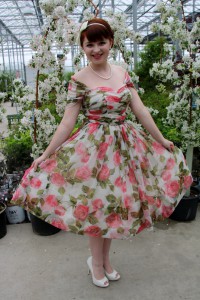 Thank you Ami! We really do love hearing back from our customers. Do you have any pictures of yourself in one of our dresses? Would you like to share it with us? If so, please email it to info@thecatsmeowcouture.com and we will post it.