Out and About
We have recently received a follow up email from Lisa Eisen. You may remember when we first heard from Lisa in December of 2013, as posted here>. Now we have a great shot from her sister-in-laws big day. The bride wore a stunningly flawless 1960's Christian Dior Couture dress. Lisa also writes;
Hey to all the staff at The Cat's Meow,
Just wanted to send you an update, a year later, from my brother's wedding.  Last January my sister-in-law and I went shopping in your store.  Literally a half hour later we walked out with her absolutely perfect wedding dress.  With minimal alterations, she and my brother finally tied the knot in a New Years Eve celebration.  Gorgeous wedding, gorgeous gown, gorgeous bride, wonderful sister-in-law…how did we all get so lucky?!
Thanks again for all of your help and for your fabulous stock of dresses.  I'm always recommending you guys for anyone looking for something specific for any sort of event.  Love your store!  I've attached a picture of the blushing bride.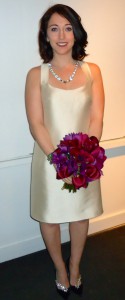 ♥We really have the best customers! ♥