The trees are budding, the crocus are in bloom and the birds are building nests. It's official, spring has sprung! We are fervently adding new items to the floor daily, so there is lots for you to see here. If you are in spring cleaning mode and need to purge yourself of some luxury designer accessories, dresses and/or vintage frocks then why don't you consign them with us? Send some pics to info@thecatsmeow.com and we'll let you know if it's worth your time bringing them by the shop.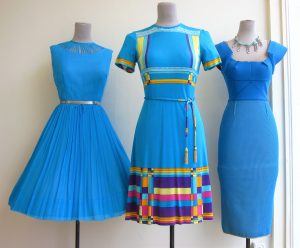 L~Early 1960's chiffon dress, size 4-6. Crinoline sold separately. 1970's W&D belt, size S.
C~Hermitt 1960's silk jersey print dress, size 4-6.
R~Roland Mouret dress, size 0-2 Sold. 1940's crystal & Murano glass necklace.