Friday, October 27th, 2017
We're back in black this week and trimmed with a little fur. I often get into conversations with customers about the politics of wearing fur these days. There are many people, myself included, that will only wear vintage fur as it's recycling and the funds don't go back into the farming/trapping of animals. Hey if someone killed me for my hide, they better rock the hell out of it for decades to come! On the flip side, we do live in a cold climate and the fur industry does contribute to household incomes and our Canadian economy. So at the end of the day, you do you!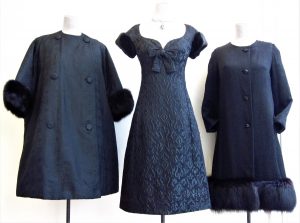 L~1950's wedge silk lined coat with fox sleeves. One size fits most.
C~1960's brocade dress with mink sleeves, size 4-6. 1970's choker.
R~1960's brocade coat with fox hem, size M.