Friday, June 28th, 2019
Our goldenrod filled window won't make you sneeze or cough so you can breath a sigh of relief and enjoy it. Happy Canada day to all and we hope to see you this weekend but we will be closed on Monday.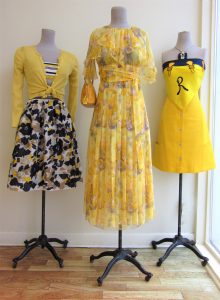 L~Oscar de la Renta dress, size 4-6. Dolce & Gabbana cardigan, size 6.
C~Chloe chiffon dress, size 4-6. Chanel 1980's purse.
R~Fendi skirt, size 6. Roberta di Camerino scarf. Lanvin 1970's necklace.