So we admit it, we've got some baggage okay! Now that we've taken the first step towards recovery, why don't you skip on in for our Leap (the tax) Year Sale? Starting tomorrow until Saturday, enjoy stickin' it to the man by paying only the price you see on the tag. This sale is store-wide and includes our Sale Room items as well. *some conditions apply, not applicable on new merchandise.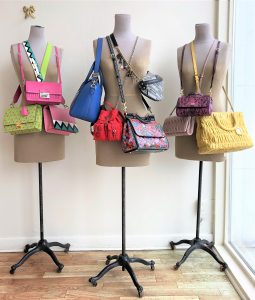 L~Prada watermelon crossbody. Prada ruched flap crossbody. Prada zig zag crossbody.
C~ Givenchy indigo Antigona. Prada red backpack crossbody. Dolce & Gabbana Miss Sicily. Balenciaga Souvenir pouch.
R~Miu Miu ruched crossbody. Dolce & Gabbana mini Miss Sicily. Prada ruched yellow tote.