Thursday, June 30th, 2016
Programing notice; we will be closed tomorrow to celebrate our nation's 149th bday. We will resume regular hours as of Saturday.  A cat has got my tongue now leaving me uncharacteristically quiet and without commentary so I will just leave you with this week's freshly installed window. Enjoy!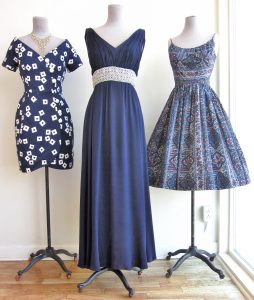 L~ 1980's Scaasi cotton brocade corseted dress, size 4-6. Worn with a 1960's drippy crystal necklace.
C~ Early 1970's jersey gown with hand beaded waist. Size 8.
R~1950's Hawaiian screen print cotton dress, size 0. Worn with a crinoline.