Periwinkle prevails within this week's current installation. We know how much you all love full skirts so we are pulling double duty to attain your undivided attention. Programing note; we WILL be open this Monday from 10-6. So, if you have the day off and want to see what's new & shakin' at the Meow Meow, then c'mon by and say "hi".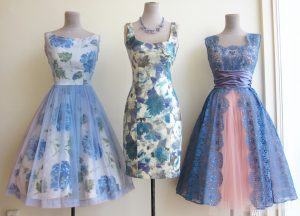 L~1950's chiffon over blue floral print dress, size 4-6. Worn with a crinoline, sold separately.
C~ Contemporary floral printed leather dress, size 2. Worn with a 1950's Italian art glass necklace.
R~ 1950's lace & tulle dress, size 6.