We're back in the black with some heavy hitters this week. We love pairing vintage accessories with contemporary designer clothes! It really changes up the look while giving it a personalized twist that's unique. Fall is soon approaching, like it or not… So when you're switching over to your warmer wardrobe why not see if you can jazz it up with some vintage baubles? We have many fun pieces dating all the way back to Victorian times (our current fav era!!). You may just find a treasure that puts some pep in your step.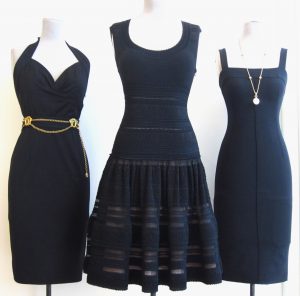 L~McQueen cotton twill halter dress, size 6. Worn with a 1960's brass snake chain belt.
C~Alaïa knit drop waist dress, size S.
R~ Dolce & Gabbana stretch dress, size 0-2 Sold. Worn with a 1960's wind-up watch necklace.