Navy; the alternative to black as well as soldiers on boats. Casual knit dresses dominate in our window this week. Need something easy & breezy for your upcoming vacay? That centre Chanel would work perfectly belted or unbelted. It just slips over your head, no zips or buttons taking up your precious beach time.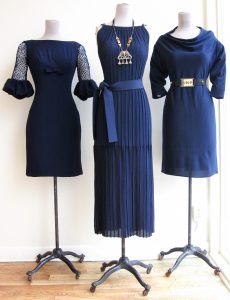 L~1960's cocktail dress with crochet sleeves, size 4.
C~Chanel knit dress & belt, size M. Deco Egyptian enamel necklace. Both Sold
R~Fendi knit dress and belt, size 8.