Friday, March 29th, 2019
Spring has now sprung kittens so we've loaded up the window with lots of lavender and lilac for you to smell with your eyes. If you love florals and pastels then we have a full bouquet happening here at the Meow Meow. Too many new arrivals for us to showcase in the window so you'll just have to swing on by.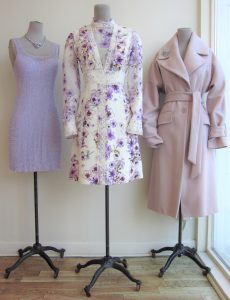 L~Vivienne Tam beaded dress and slip, size S. Sherman crystal necklace.
C~ Giambattista Valli floral print dress, size 8.
R~Michelle Waugh lilac cashmere wrap coat, size S sold. Sherman crystal brooch.